SLEEP EVALUATION

Find out how can I help with a sleep evaluation

GET STARTED

BABY SLEEP TIPS

Visit the blog for advice related to all baby sleep topics

VISIT THE BLOG

SUCCESS STORIES

Read what parents who have been where you are say about me

CHECK TESTIMONIALS
Hey Mama! I'm Salma
I'm a mom of a sweet tiny wonder named Yanis, and a certified pediatric sleep consultant.
I know what it means to feel sleep deprived, because I have been there for weeks when my baby hit the 4 months sleep regression. What helped me was to talk to a sleep expert who made me realize that sleep is simply a skill that we can teach our babies; like we teach them to talk, walk.... When they master the skill of independent sleep, they are able sleep long stretches and guess what... we, parents, can get some rest.


My passion today is to share this magic with parents, help parents teach their babies the skill of sleeping so they can reclaim the joy of parenthood.
Book FREE 15 min call
Sleep Solutions for every age
Newborn 0-4 months

Life with a newborn is equal parts amazing and exhausting. Tiny Wonders helps parents instill healthy sleep habits from the start. Learn what to expect the first four months with your baby's evolving sleep needs and when you should be doing what to set your little one up for sleep success.

Discover more

Infant 5-12 months

Teaching a baby to sleep well is a lifelong gift. If your little one is struggling to fall asleep independently, experiencing frequent night wakings, or taking poor naps, a personalized sleep plan with follow-up support will help your baby get all the restorative sleep that he or she needs.

Discover more

Toddler 12-36 months

It's never too late to teach a child independent sleep skills and to sleep well. If your child is up to 4 years of age, sleep changes can be trickier, but Tiny Wonders is here to create an individualized step-by-step sleep plan that will help you establish all-night expectations to guide your child to a restful night of independent sleep.

Discover more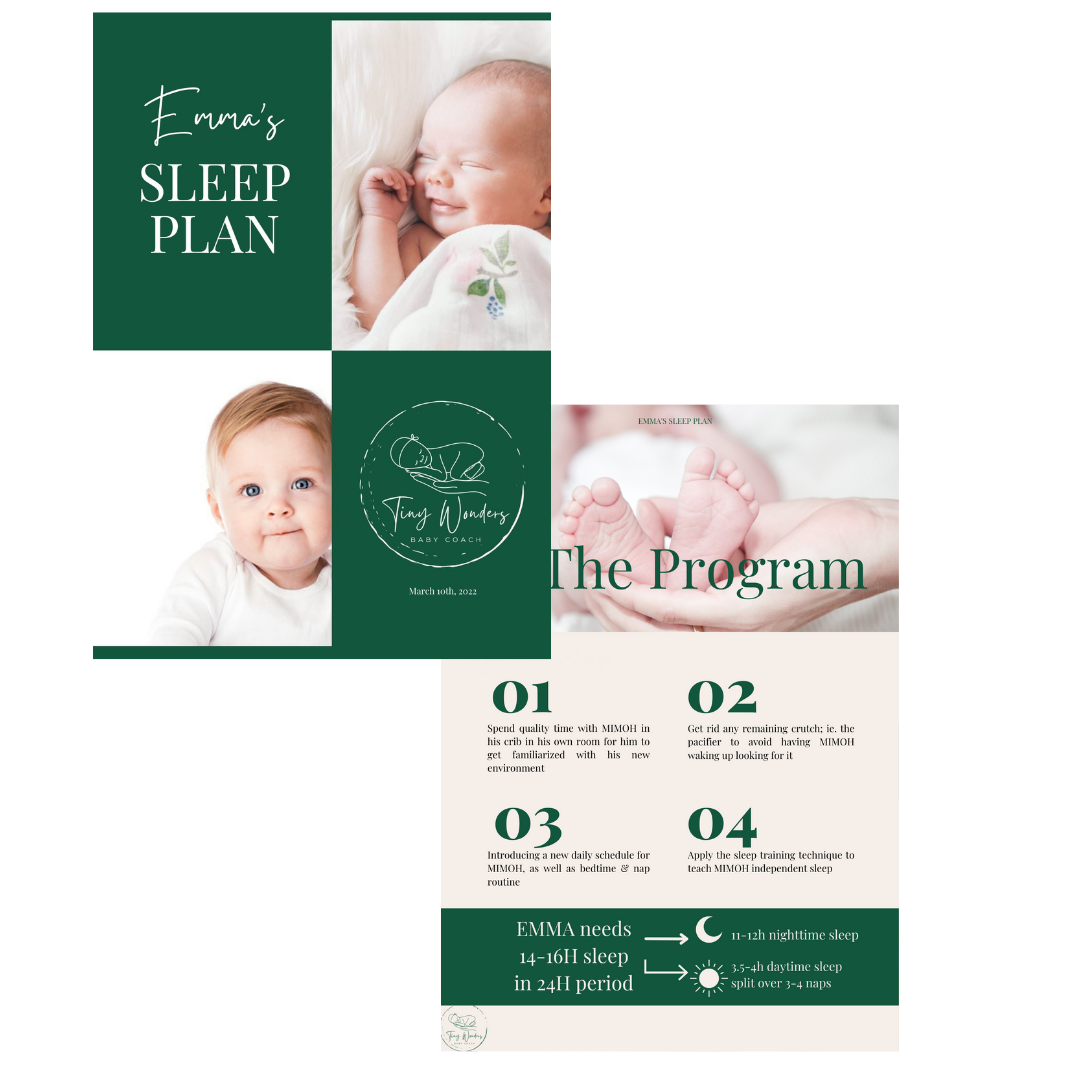 100% Customized Babysleep Plans
As you are becoming a parent to a tiny wonder, you are probably spending lots of your time on research… and end up feeling overwhelmed with baby sleep information, and wonder which one suits best your baby?
What you probably are sure of already is that every baby is unique; and so is their sleep! So, forget about the generic tips that you find all over the internet. As a Certified Pediatric Sleep Consultant, I connect with you on a one-to-one to get to know you as a parent and know your unique baby, to design 100% customized baby sleep plans to your unique tiny wonder.
My sleep plans are complete! I look at all aspects of your day to make the sleep process easy for you and for baby:
- Personalized daily feeding and sleep schedule
- Naptime and bedtime routine
- The optimal sleep training method for your baby
- Tips to manage sleep regressions
- Travelling with a baby.... and so much more!
Discover how it works
Step 1 - Book a call

Book FREE 15 min call to share with me your current sleep challenges

Step 2 - Create a plan

Select the plan that fits you best and your baby

Step 3 - Start sleeping

Let me get you back some sleep
Their life changed!
Emma& Eliane - 4 months

I was exhausted!! I was waking up with Emma every 3 hours at night to rock her back to sleep. Salma saved our lives, Emma sleeps now through the night with only 1 night feed!

Andrew & Oliver 6 months

Oliver was a chronic cat napper! Days were so long as he was napping so little. Thanks to Salma Oliver now take 3 glorious naps, that we can use to rest as well!

Sara / Ted & Nael 9 monts

I always thought that breastfed babies cannot sleep through the night. But Salma helped us reorganize our days and routines for Nael to get the right amount of milk and solids and be able to sleep through the night